Brighton Automotive Locksmith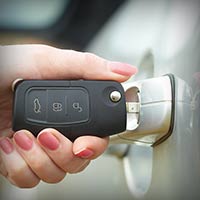 Face it! Automotive locksmith problems can happen at any time; day or night. You might be locked out of your car and need to be somewhere. Or, your ignition key might have snapped in two and you don't have a spare. What do you do? Just make a call to Brighton Locksmith Pros and we'll expertly help. Our locksmiths are licensed, bonded and insured for your maximum benefit and we are not only available to you 24/7, we are very affordable, too. Don't be without the use of your vehicle! You can save money and time and get back the use of your car or truck by just calling Brighton Locksmith Pros at your first opportunity!
Call Us: (720) 310-1712
Q: What does an automotive locksmith do exactly? I know you duplicate keys, but what else?
A: Here at Brighton Locksmith Pros our technicians open trunks, make keys, replace ignitions, fix keyless entry, remove steering wheel locks, rekey locks, service alarms, unlock doors, install locks, program transponder keys and dozens more! Anything your auto locks or keys need is done by our Brighton Locksmith Pros!
Call Now: (720) 310-1712
Get premium quality automotive locksmith service anytime, day or night by calling Brighton Locksmith Pros!
Ignition change services
Car alarms
Smart keys
Keyless remotes
Mobile 24-hour automotive locksmiths
Break-in repairs
Free price quotes!
Remote and fob keys
Auto door opening
Broken keys removed
Rekey service
Automotive keys
High security sidewinder
Motorcycle and boat locks
VAT keys
Damaged locks repaired
24/7 emergency service
Car trunk unlocking
Glove compartment locks
Keyless entry repair
And many more!
Your automotive vehicle can have 24-hour access to the best locksmith service in town; just call Brighton Locksmith Pros and see!
Call Today: (720) 310-1712